Efficient handling of valuable raw materials
Process solutions for industrial pasta manufacturing
Raw-material handling comprises everything from receiving delivery of materials, conveyance into and removal from silos, mixing, sifting, pneumatic or mechanical transport of raw materials to the pasta press or to multiple pasta presses.
SME SCHMID either relocates the existing installation and reassambles it at the customer's facility, or we create a concept for an individual, customer-specific solution. This all starts once again with the planning and a corresponding diagram representation. The diagram includes all machine parts for raw-material handling and clarifies the procedure as well as the interconnection of the individual machines.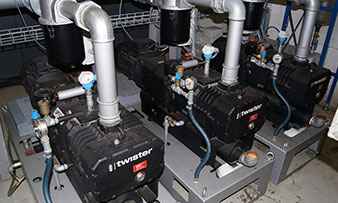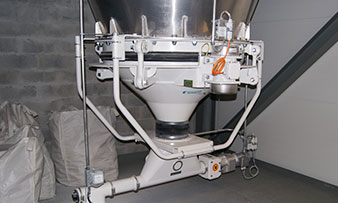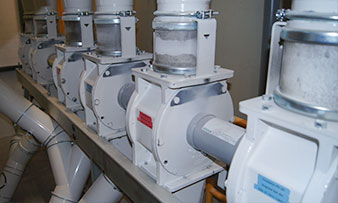 Components for material management
Bag emptying hoppers and/or tank filling

If the raw materials (semolina, flour, additives) are delivered in sacks or big bags, they can then be blown into the corresponding silos using a bag emptying hopper. The appropriate filling stations are conceptualised for receiving delivery in tankers.

Silo (exterior/interior silo)

Silo concepts are designed in various forms with the desired and possible dimensions in aluminium, stainless steel or gypsum plaster board.

Sifters and magnets

Depending on how the materials are delivered, different sifting mechanisms, such as rotary sieve, gyratory motion or magnets, might be required to fill the silos without contamination from foreign particles.

Pneumatic or mechanical conveying

Generally, pressure or vacuum pneumatic conveying systems are used for the filling and emptying of silos. The layout of the blowers, pipe dimensions, piping with separators and the like is designed according to the necessary output capacity of the pasta production line(s).
For smaller facilities, we also work to a certain extent with flexible spiral conveyors for feeding into the pasta presses. This solution is simpler in principle but, by nature, has certain limitations or disadvantages.

Mixers

If various raw materials or additives are to be mixed with the primary raw material, we can build the appropriate batch or continuous mixers.
Used/new
Used and new machines and production facilities or a combination thereof – we have 35 years of experience in the acquisition, planning and operational commissioning of the facilities.
Advice/planning
Dismantling
Relocation/transport logistics
Assembly/commissioning
Maintenance
Retrofitting
Used pasta production lines
Thanks to our numerous contacts around the world, we can find the right machine for your needs.
Contact us!
Our specialists are happy to advise you!