Efficient material handling of valuable raw materials
Process solutions for industrial pasta manufacturing
Raw-material handling comprises everything from receiving delivery of materials, conveyance into and removal from silos, mixing, sifting, pneumatic or mechanical transport of raw materials to the pasta press or to multiple pasta presses.
SME SCHMID either relocates the existing installation and rebuilds it professionally by the customer or we design a customized, individual solution. The start for this is again the planning with a corresponding diagram creation. The diagram includes all plant components of the raw material handling and clarifies the sequence and interrelationship of the individual machines.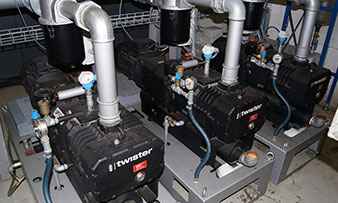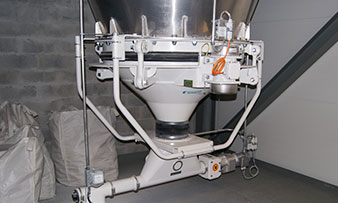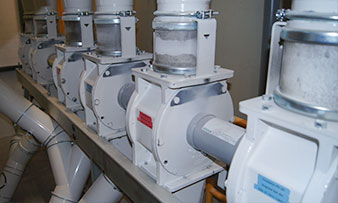 Components for material management
Bag emptying hoppers and/or tank filling

If the raw material (semolina, flour, additives) is delivered in bags or BIG BAG's, they can be blown into the corresponding silo via a bag emptying hopper. In the case of delivery by tanker truck, appropriate filling stations are designed.

Silo (exterior/interior silo)

Silos are designed in a wide variety of designs with the desired and possible dimensions in aluminum, stainless steel or GKF design.

Sifters and magnets

Depending on how the materials are delivered, different sifting mechanisms, such as rotary sieve, gyratory motion or magnets, might be required to fill the silos without contamination from foreign particles.

Pneumatic or mechanical conveying

Generally, pressure or vacuum pneumatic conveying systems are used for the filling and emptying of silos. The design of the blowers, pipe dimensions, piping with diverters, etc. is made according to the required output of the pasta line(s).
For smaller facilities, we also work to a certain extent with flexible spiral conveyors for feeding into the pasta presses. The solution is simpler in principle, but naturally also has certain limitations and disadvantages.

Mixer

If different raw materials or additives are to be mixed with the main raw material, we install appropriate batch or continuous mixers.
We build machines
Since 1982 we deal with one of the most popular dishes in the world: pasta in all variations. It all started with the procurement, relocation and commissioning of used equipment. Today, we design and build pasta machines, spaetzle plants and the associated process technology at our site in Satteins.