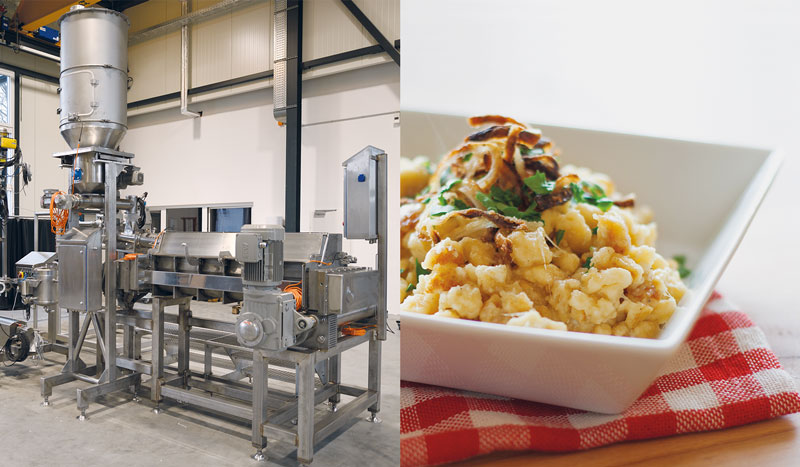 Dough preparation for fresh spaetzle
For perfect spaetzle or knöpfle, the dough must be whipped smooth, firm but slightly runny.
This requirement is the basic prerequisite for the dough preparation plant that we were allowed to develop and build for Germany's largest fresh pasta producer. Our customer offers a comprehensive selection of refrigerated fresh pasta. Professional chefs in the catering industry and large kitchens appreciate the fresh pasta just as much as private customers.
Facts dough preparation plant:
Dough preparation for spaetzle, consisting of:

Gravimetric semolina, water, egg dosing
Premixer
Double-shaft kneader
Twin screw press
Spaetzle head double with substructure

Power
Special features:

Continuous kneading and mixing plant
Spaetzle forming in closed head with special cutting device
Our industrial dough preparation systems meet important requirements to work efficiently and safely.
Efficient processing

Fast mixing and kneading with high product quality

Flexibility

Mixing, kneading and pressing dough for different end products in one process

Automation and control

Efficient and consistent dough processing, process monitoring, automatic dough dosing, control of mixing times

Maintenance and cleaning

Easily accessible designs make maintenance and cleaning easy for high food standards